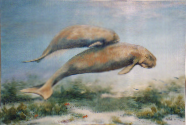 The Dugongs
of Macarthur Bay



I

n the verdant coastal reaches
Of that once, great southern land
Emerged such wondrous creatures
From Creation's marvelous hand.
Among the turtles and the dolphins
In gentle grace and harmony
Swam a curious relation
Of the fabled 'Manatee'.


I

nevitably, white men
Ventured to that shore
With no idea before them
What fair Nature held in store...
Shadows shimmered through the shallows
And sailors stammered to recount
As from those early sightings
Strange legends came about.
2.


S

oon the pioneers followed

And on one fateful day

MacArthur saw the virgin forests

And then sailed into the bay.

He sought those stands of timber

On which the cities must depend

And along that pristine foreshore

Nature's balance had to bend.



N

ow in the name of progress We know, all things must change
And in the clear felled pastures
Dairy cattle came to range.
The township, which now prospered
They called MacArthur Bay
And the Native population
Knew the whites were here to stay.



W

ith the dawn of a new century
The wheel of time revolved
And just like the threatened dugongs
There were problems to be solved.
With the timber now depleted
The township soon regressed
And the elders struggled earnestly
So this challenge, be addressed.



T

hus a vision, splendid
For MacArthur Bay evolved
And for many of the townsfolk
The problem, seemed to be resolved.
But the citizens divided
When the blueprint was explored
For in this grand development
The plight of dugongs, was ignored.


3.
F

rom within two warring factions
Strong passions, now were fanned
For the one hand, wanted progress
With its course already planned
But the other, just as adamant
Insisted with some nerve
That the sea-grass of the dugong....
Is our duty to preserve!



F

or distant generations
Deserve the right to see
Not just, a strange exhibit
In some musty gallery
Where children ask, incredulous!
'Daddy! What can that thing be?
I think, they just pretend it came
From past mythology.'




Rodd Sherwin ©