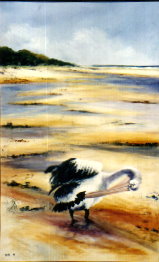 'Charlie'
Come home to roost



O

n Scarborough Beach, in ninety five
We noticed Charlie first arrive
Three years he perched in his cabinet home
That bird was not inclined to roam.
For although you'd never see him fly
He'd talk to every passer by
And so we thought, he seemed content
In the lovely seaside environment.




A

las, one black night in ninety eight
Some feckless rogues, ordained his fate.
We were not sure, if an escape was staged
Or if he'd simply been en-caged?
As time passed, I later heard
A man say, 'At Margate, I've seen that bird!'
And so many times he'd been mistook
For a familiar posture on the Hornibrook.
2.



A

fter that, the trail went cold
And until much later, the tale unfold.
New tenants, to Margate came around
And in the tenement, was Charlie found.
His finer qualities, they had ignored
In fact, they made him their notice board
Set up on a light pole, for all to hale
And to beckon folk to a garage sale.



H

is indignity, was plain for all to see
Lying upside down, against a tree.
But pedigree, can't be denied
In this pitiful state, was Charlie spied
By a discerning lady, who made a bid
All she paid, was just four quid!
A bargain, she thought, she had gained
But for the price of being framed.


T

he quote, you see, her senses floored
So in her garage, was Charlie stored.
Later when she took three months leave
Charlie gained a new reprieve
He was billeted with her Asian friends
But this is not where the story ends.
He sat on their front porch, in the blazing sun
Played with the children and had lots of fun.



W

hen Charlie's lady came home from abroard
She set his fortunes, to be restored
For she had decided again, to frame his plume
And to make him a feature, of her living room.
So off to the Framer Charlie went
Prepared for his special refurbishment
But while he waited against the wall
His old friend, Tricia, chanced to call.
3.




'

Charlie! ...What are you doing here?
And why on earth did you disappear?'
The circumstances, she thought she knew
And quickly called the Boys in Blue.
'Charlie' - she said, 'Come home to roost
It would give our morale a welcome boost'.
At Scarborough Fair, we all rejoiced
And yelled

'Three Cheers'

for Tricia Reust.


C

harlie's old beach has been freshly cleaned
And all his feathers are neatly preened.

Now should

You

covet Charlie for your very own
And have an urge, to take him home
Be sure to make your credentials sound
This pelican is renowned, for miles around.
As for Charlie! ... He thinks it all a farce
And he's just content to scratch his #### !.


Rodd Sherwin ©