Back to Chronicles of SAAMBR
CAPTAIN UNDERPANTS

George Beard and Harold Hutchins

Created many stories from the plot
Of an unlikely Super Hero
An Earthling, he was not.
He came from Underpantyworld
Catapulted from outer space
To escape the 'Wedgie Warlords'
Spraying starch all round the place.
This of course all happened
When he was but a child
Adopted by the 'Potters'
He grew up meek and rather wild
They had found him in the mangroves
While checking pots and keeping tabs
Just sitting in a mud pan
Contently sucking on some crabs.
So was it fact or fiction?
Others shared a similar fate
Superman came from Krypton
Before it was too late.
And among the many stories
Throughout the Lord's 'Good Book'
Pharaoh's daughter found our Moses
In the reeds beside a brook.
The Potters named him Robbie
And at school he was quite shy
But he grew such girth and biceps
It made you wonder - Why?
While all the other children played
And ran round kicking balls
Young Robert spent time lifting things
Even bricks from off the walls.
His home out in the 'boondocks'
Nary a fashionable place
Was not a bit like Gotham City
But Redcliffe had much more space
And on his trusty bicycle
He explored all this world around
Especially through the mangroves
Where originally he was found.
Not expecting to be any other

Than the local 'Hoi Polloi'
He had to make his way through life
When no longer just a boy
Gentle Jesus was a carpenter
Schooled in the use of saws
While Robbie made his way through life

Installing garage doors.

Now it somehow often happens
When a woman comes around
She wrings the very best from her man
And hidden qualities are found.
So it was for Robert's Ying
When the wedding bells all rang
That Robbie Potter thus succumbed

And so became her Yang.


Her unsuspecting Hero

Was introduced to wedded bliss

Where nothing's kept a secret

From an anxious little Miss

It came about one morning

While laundering a frock

Tangled in the washing

And came as quite a shock.


So Robbie was confronted -

'What's this! hidden in your 'Jocks'?

When other men so glibly use

A rolled up pair of socks'. -

'It's just a magic amulet

Which in my stomach had been pinned,

I fear it must have popped on out

With some unexpected wind'.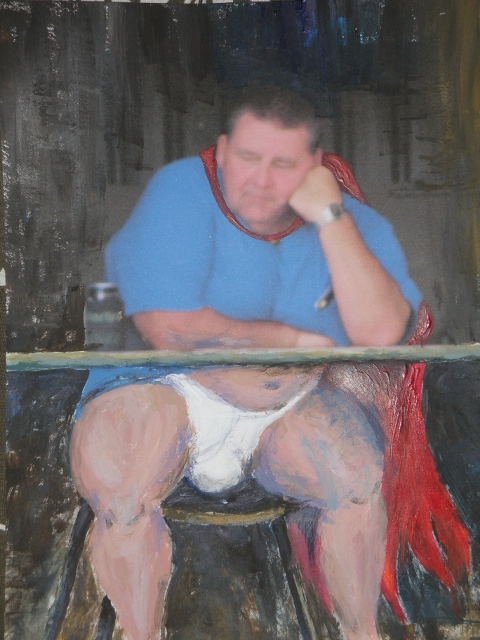 Now Ying was not as gullible

As Billy Sharpe and all his mates

But Robbie looked a little 'Sheepish'

And committed to his fates.

So it was, she sensed the truth -

'I knew my man was quite a prize -

Not just for all his wisdom

Nor his most impressive size'.

'This amulet must have special powers'

The little lady did surmise

(While Robbie somehow doubted it -

He wasn't half so wise.)

She started out by molding

Those powers that lay within

And without him even knowing it

So his training did begin.
Her ardent ministration
Brought this new 'persona' to the fore
With such a strength of character
And scared of starch no more.
Thus our 'Captain Underpants'
Erupted on the scene -
Perhaps a little late in life
But you know just what I mean.
His costume was quite simple
With its bright red flowing cape
That somehow did accentuate
His all round manly shape.
While the other men of marvel
In fancy vestment hid away
All his striking features
Were thus proudly on display.
Wherever he was needed
Flashed this blinding ray
The 'Jockmobile' with Underpants
In the very shiny silver tray.
And whenever there was trouble
He was committed to the fray
Quietly hoping to himself
I just wish they'd go away.
All the children loved him
And they knew he was no fake
For just like all the rest of them
He was very fond of cake.

He had so many talents
Not just cleaning up a mess
He was especially good at helping out
Young damsels in distress.
Most other Hero's have by now
All graced the silver screen
And Billy Sharpe soon conspired
So his acting talents could be seen
With the main event promoted
Billy found out on the night
Underpants, had lost his nerve

And suffered fro stage fright.
Alas, one day Old Underpants
While showing his prowess
Blew a gasket in the groin
Actually, both of them no less.
Although our new age Super Hero
Is not made out of steel
He does have certain qualities
Which in truth, are all quite real.
We hope they quickly sew him up
And of course we wish him well.
And hope he'll soon be zooming round
With new Fairy Tales to tell.
And the lovely Queen of Underpants,
She could reinforce his patch
By starching up his Y-fronts
Across the front to match.
Rodd Sherwin
( in answer to Bonnie Tyler's plea -

'I need a Hero -

I'm holding out for a hero
'til the end of the night
He's gotta be strong
He's gotta be fast
And he's gotta be larger than life …….')