VERSE TITLE

( click title to open verse )


Across the Nullabor
By Horse and Morse
Clermont Flood
Droving
Farewell the Bushies
Fisher's Ghost
Mount Mulligan Disaster
On Fraser
Ordeal of Modesto Varaschetti
Starry Sky
Sultan Punjab
The Hunt
The Palmer
The Sound of Silence
To Walk in Venice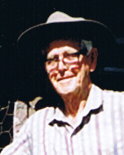 This is the first publication of this collection of

'classic'

Australian bush poetry written by the late Clarry Dunstan a long time resident of Scarborough, in Queensland, Australia. His verse contains stirring depictions of various historic incidents and events and include several romantic and fanciful interludes.
I was priveliged to be shown an old manuscipt of his verse which held hidden some of the best poetry I have read. The poems are reproduced and shared in this domain with the kind permission of his family. - Rodd Sherwin


© Copyright on this work permits the retention of all or any part of the verse for the personal library of the viewer but prohibits reproduction for sale or distribution in any manner.